InterClassics Maastricht
15 t/m 20 januari 2020
Speed ​​Service, The Porsche 911 Specialist was of course at InterClassics Maastricht again 15 to 20 January 2020.
Traditionally, four days in January , Maastricht was dominated by the most beautiful and exclusive classic cars.
Speed ​​Service, The Porsche 911 Specialist also has its own stand here, every year. This year we had the following beautiful Porsche 's with us:
Type
Engine
Color
Year of Construction
Porsche Madster RT/ 964 Backdate
3.8 L 330 pk/ hp
Special Mix, Silver metallic
1991
On January 15th, 2020 Speed ​​Service, The Porsche 911 specialist! presented the prototype of the second Madster, the Madster RT at the InterClassics & Topmobiel fair in MECC Maastricht.
This second Porsche 964 backdate is built entirely in-house at our head office in Sittard, the Netherlands. Our head office is located in a fully renovated farmhouse built in 1726. From where we can do metal work, high quality paint, engine and gearbox overhaul, engine superflow test bench etc, all under one roof. We are one of the few companies that perform bodywork transformations from steel. Everything is made by hand by our highly skilled staff. Each car is therefore unique, like a work of art.
By the time Singer introduced their first car, the orange G-model backdate, they were taking advantage of social media in a great way! The pictures of this car went viral and later people got used to their great cars and the price for such a special and personal Porsche retroactively. As you can see there are many companies worldwide that want to do the same. But there are many companies that try to copy Singer, and we at Speed ​​Service certainly don't want to do that. It takes thousands of hours to backdate a 964, so make it your own! That's our philosophy. Every Madster built and every customer is treated with passion and personal attention to detail.
To improve on this we also have our own rendering program for the Madster. So that we can create a virtual Madster together with the customer. Many details can be discussed immediately and adapted to the wishes of the client. This gives them a good idea of ​​what their dream Porsche will look like.
Despite the steel body parts, the weight of the car is equal to the iconic 964 RS, 1220 KG! Powered by the 330 hp engine, it is a thrill to drive this car. Upgrades to 380 hp are an additional option. We are currently even developing an air-cooled 4-valve engine, then we can upgrade the power to 400-500 HP!
We have changed many details on this Madster RT to make it perfect for customer requirements. Such as designing and creating in-house: headlights, taillights, aluminum electrically adjustable mirrors, custom exhaust and the list goes on, so by the time we started building our third Madster- this time a Targa- we finished the prototype off the Madster RT.
The third Madster is already coming the second quarter of 2022.
Type
Engine
Color
Year of construction
Mileage
Porsche 911 Carrera
3.2 L 258 PK/ HP
Indisch rot L80K
1988
87.795 miles
Great condition Carrera G50! Classic data note 1!
Full engine overhaul and upgrade to 258 hp with RS tuning in Germany, invoice of € 22,000 available!
Original maintenance booklet, original purchase invoice.
Original Turbo fuchs wheels, 7 and 8 J. New brakes & brake pads.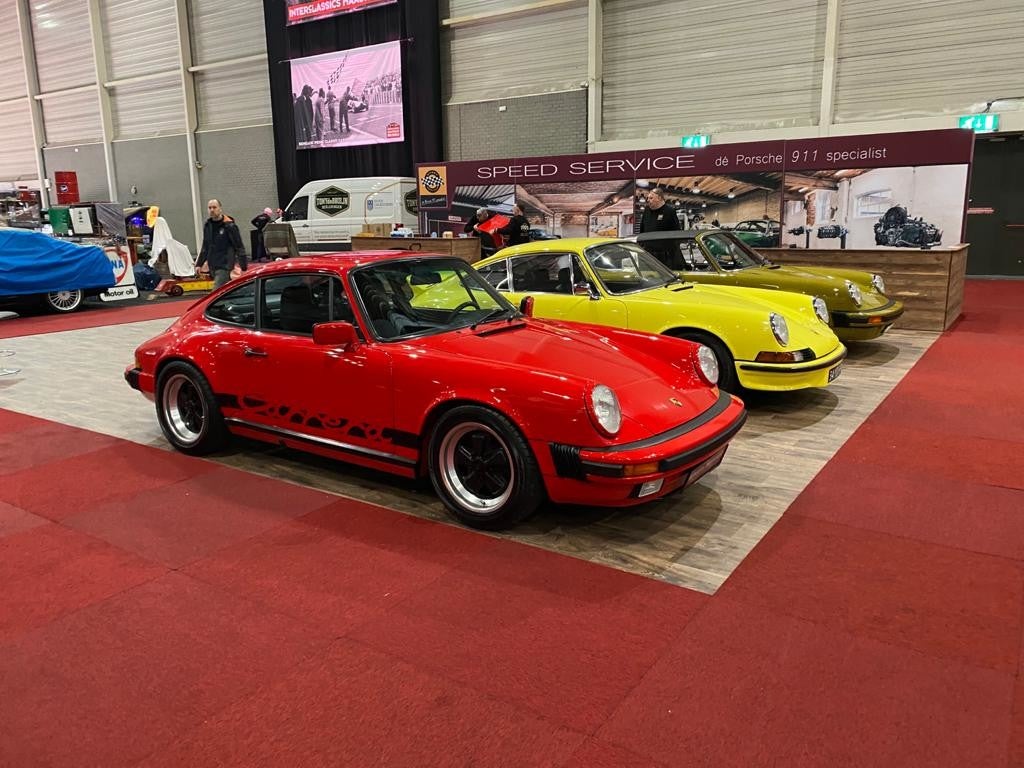 Type
Bouwjaar
Motor
Kleur
Porsche 911 Carrera RS
1973
2.7 L 210 pk/ hp
Light Yellow
Fully original restored Carrera RS. After the complete restoration at Autofarm in England, hardly driven.
Matching number engine and gearbox.
Type
Motor
Kleur
Bouwjaar
Mileage
Porsche 911 Targa
2.7 L 150 pk/hp
Olive 414
1975
100.000 km
This beautiful 911 Targa has been completely restored by us last year. Many parts have also been replaced by new parts.
Speed ​​Service is an independent Porsche specialist and has no ties to the PON dealer organization